Video files can take up a lot of space on your computer, smartphone or tablet. With the rise of 4K videos, the video file sizes are skyrocketing. For example, one minute of 4K video at 30 frames per second requires a whopping 375 MB of disk space. How much is an hour? You can do the math!
Let's assume, though, that file storage is not a problem and that you can store as many hours of 4K videos as necessary. But what happens when you need to send one of these videos? Or when you need to stream one? How do you send 1 hour of 4K video files to someone else? Or how much will it take to download one? A lot of bandwidth and some good old patience. Watching a large video on a slow internet connection with a lot of buffering can put a strain on anybody's nerves.
It's clear no one can work at this level, so all videos are compressed in some sort of way before being uploaded to the internet. Compression is tricky, though. There's a fine line there between small file size and a really good-quality video and it's up to you to keep this balance.
Well-versed video editors do like to discuss the many perks and features of different formats, the lossless and lossy ones and so on. However, for most web videos, there's no need to worry about this stuff. If you use Biteable, you're good.
Biteable compresses to the present decent standard of 627 kb/s and keeps the resolution to 720p, ideal for any kind of online sharing.
This way, you can download videos with good image quality and keep them at a pretty small size. This means less time needed to upload them to YouTube and more smooth streaming for your website visitors.
Still, if you need even more compression, the game changes and you need to look further.
How does a video compressor reduce file size and what makes it good?
Reducing a video file size requires the removal of some details in the data. This is what a video compressor does. A codec is used to compress the file to different formats, from mp4 to WMV and so on. But things are not this easy. There are two types of compression: lossless compression and lossy compression.
Lossless compression means redundant information is eliminated and this is why this type of compression is usually used only by professional video editors who want to share large video files.
Lossy compression, on the other hand, won't remove information that was already there twice, thrice, but rather cut down on the video quality by removing details. Still, you can do a lot of lossy compressions before an "unauthorized eye" sees the difference.
We don't recommend compressing a file multiple times because that clearly means losing quality, not only on the video side but also on the audio.
Can you really mess it up with the compression?
Definitely! That's why you should keep the original version, just in case, or keep the best compressed version if you want to try more compressions on a single video file.
So, what is the best video compressor software?
Is there such a thing?
There is a lot on the market. Some offer you the possibility to control the final compressed video file. There is also the video editing software or video players, like QuickTime which also offer some kind of compression. Still, a video compressor which does just that: compress videos, is better.
There are also a bunch of video compressors which work online, or as an extension to your browser. They're fast and simple to use and if you're not much of a video editing professional compressing videos every single day, then it's ok to go with an online video compressor. Let's see some of them!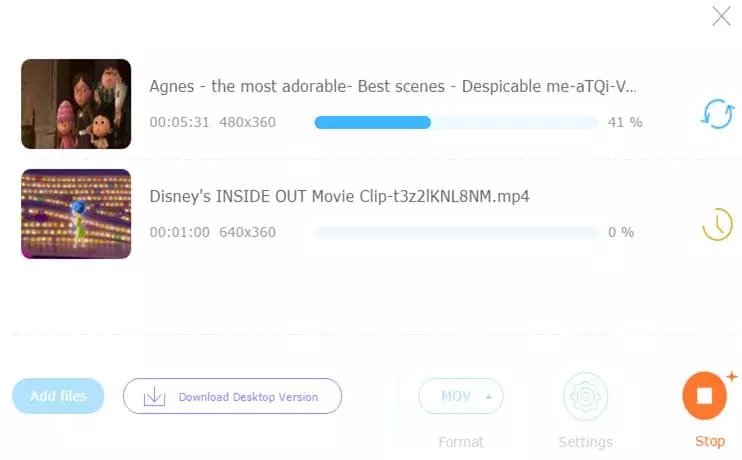 Apowersoft Free Online Video Converter
This software offers video compression and video converting from one type to another
The PROs are:
You can compress long videos, without no limits or watermarks
You can set bitrates, resolutions and so on
Put multiple videos in the queue
It also offers some basic video editing tools (filters, crop, trim, frame rate, adding watermark)
It's FREE
The CONs are:
You'll need to download a small launcher plugin to run it solely on your browser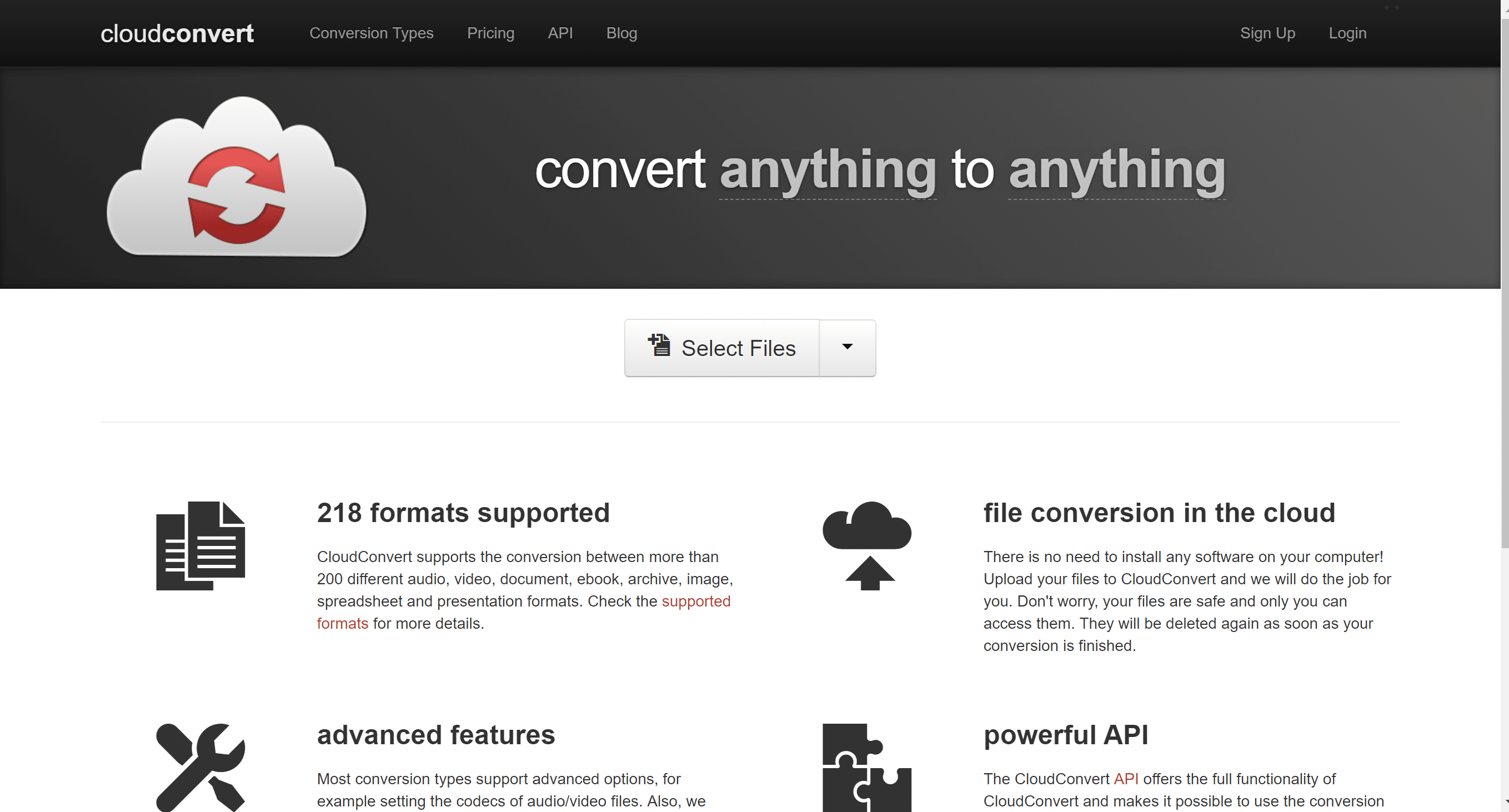 CloudConvert
This is a paid software which can help you compress and convert over 218 file formats.
The PROs are:
Over 200 different video, audio, archive, image, document, event presentation formats
You can go for the free version which handles up to 1GB and 25 minutes per video
You can upload videos from your computer, Google Drive, Dropbox, etc.
Good price for the full paid version. $8 for 500 minutes or monthly subscription of $8/month.
The CONs are:
There are a lot of features here that you might never use, but pay for them.
Now, if you're not really a fan of online video compressing tools and have your own Windows-based computer you take with you everywhere, then it's a better idea to go for a specific video compress tool. Some good examples are: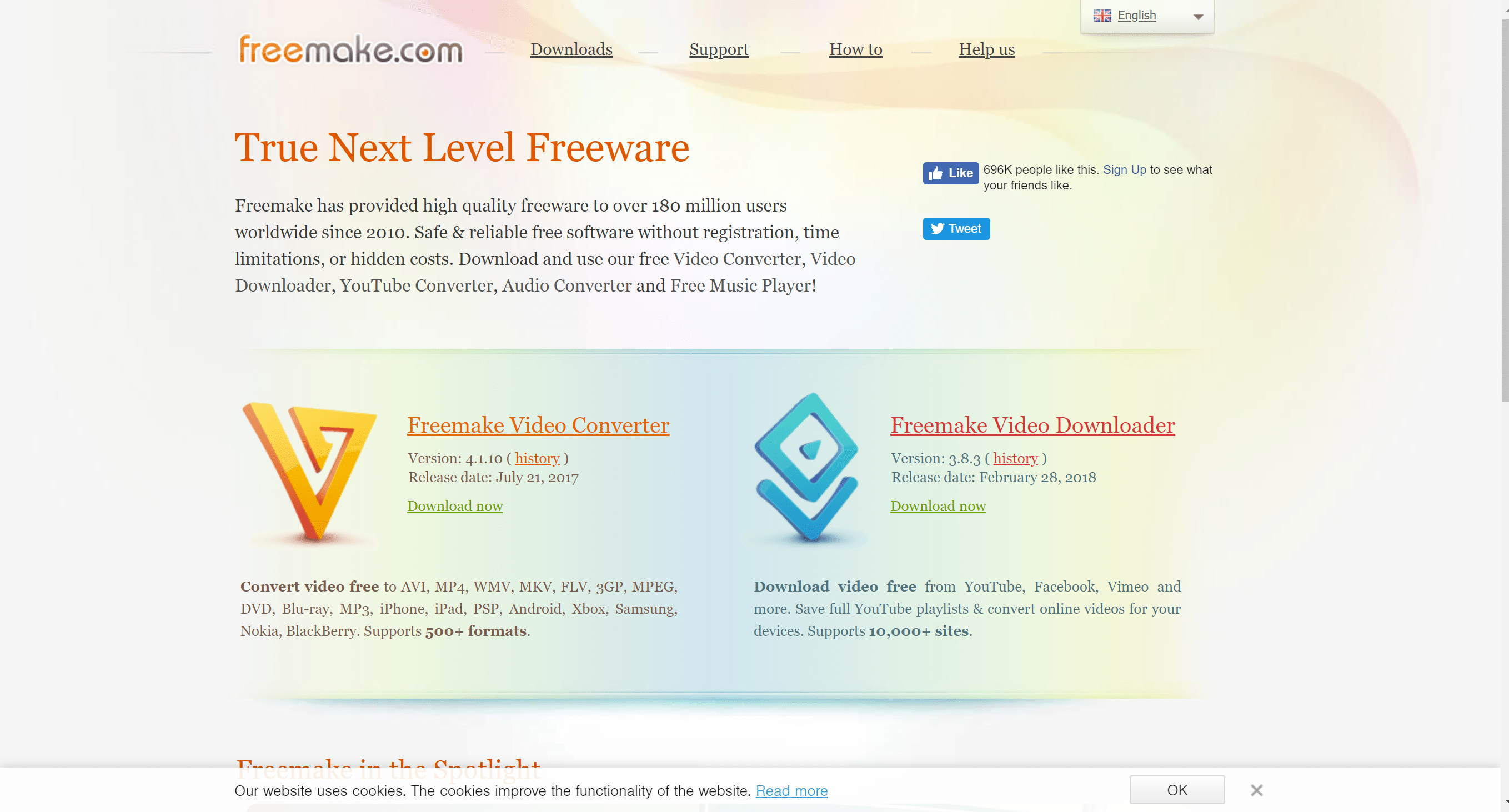 Freemake – free
93 million users, several codecs, resolutions and a lot of frame rate options, not to add many different ways to compress video files – this is one of the most popular Windows-based free video compressors out there.
The PROs are:
Support for more than 500 formats and devices
No limits regarding registration, video times or upgrades
Export videos directly to YouTube
Burn DVDs in case you still go for that sort of thing
The CONs are:
Less to no editing tools
The YouTube exporting tool and some others are strangely locked at first. Only after three days, you'll get a Web Pack which will allow you to unlock them. Weird.
Video Converter Factory – paid
The PROs are:
It supports HD and 4K
Several devices have preset parameters
Batch conversion
Good price. $29.95 for a lifetime license, upgrades included
The CONs are:
From reviews, it seems 4K conversion is a bit too slow
No DVD features included
Now, let's see the best solutions for the Mac users out there!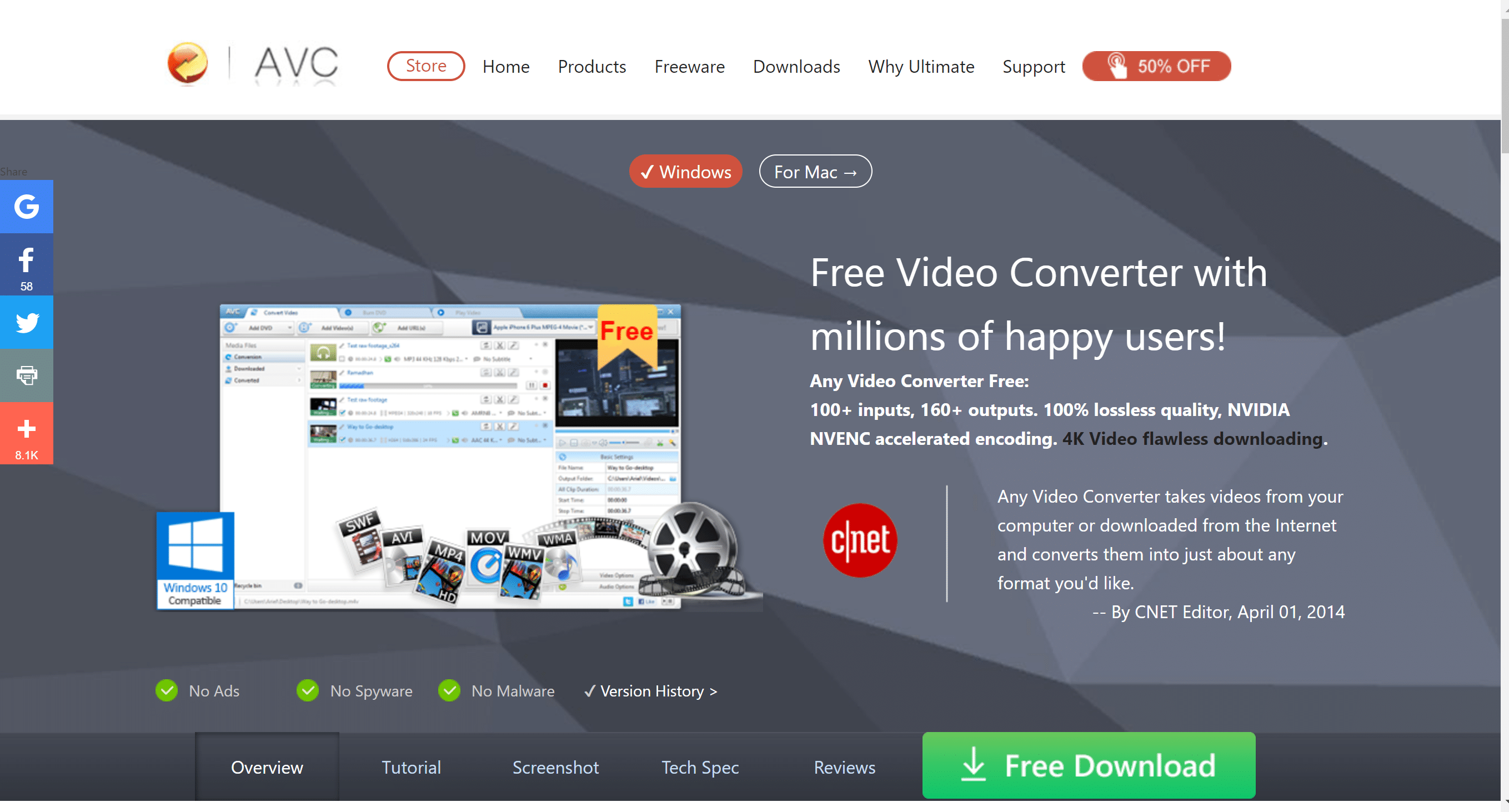 Any Video Converter Free – free
Yep, that's its name.
The PROs are:
Rip/burn CDs or DVDs
Lossless quality
30 times faster at converting
Friendly interface
Editing tools, filters, and effects available
The CONs are:
Not as many features as the Windows version
No 4K downloading or NVIDIA NVENC accelerated encoding
If you're not careful, you will download a lot of unwanted software together with the video compressor. Make sure to untick some boxes before clicking "install"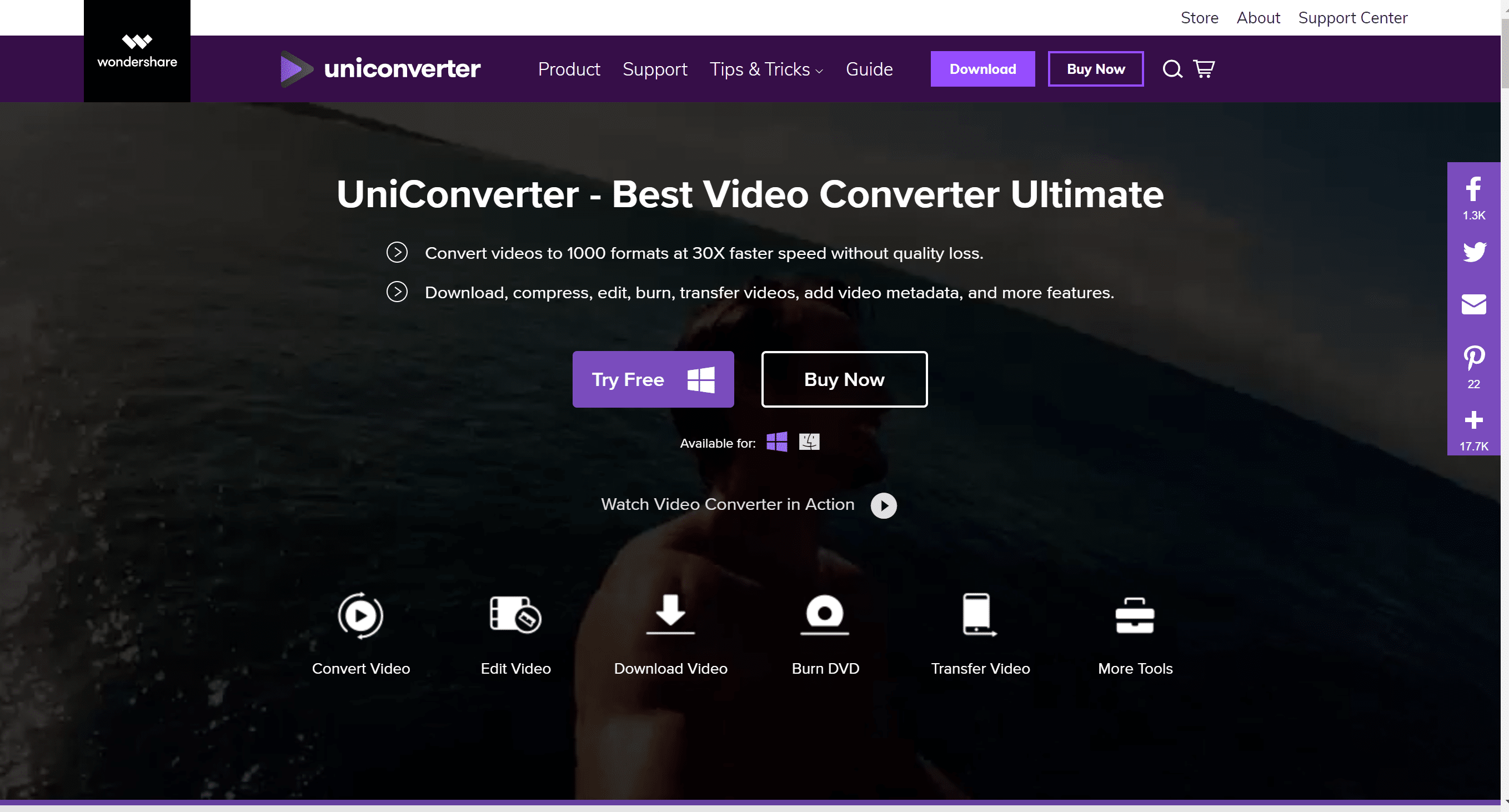 This software producers boast 30 times faster compression speed and support for more than 1000 formats.
The PROs are:
8 different ways to reduce the size of your videos
Multiple features, like downloading video, streaming, editing, DVD burning
Can reduce multiple video files at once
Easy to use
The CONs are:
Hefty price: $59.95 for a lifetime license
Few device optimization profiles built into the software
What video compressor is best?
As you have probably already seen, there is no real answer to this question.   You've got to know your video compressing needs and choose a software that will fit you perfectly. There is quite a lot of video file size compressing techniques, from adjusting frame rates, bitrates, the resolution to ultimately cropping your video so it's shorter and thus smaller in size as well.
So, if you want to use a mix of these techniques, then you might need a mix of tools to have on hand. If you just want to change your video to a smaller size format, then an online browser extension video compressing tool would fit you perfectly.
Then, it's the question of budget. If you want to have the utmost control over the output settings of the video, choose your preferred format and optimize your video, then you'll need to pay a little extra for a software that has all these features included.
But, if you do not have neither the time nor the money to do that, then Biteable is the perfect fit for you: easy, fast and reliable, compressing your videos while keeping them high-quality for your viewers.
Now, as with most things in life, it all comes down to your choice!